Leisure Suit Larry: Wet Dreams Don't Dry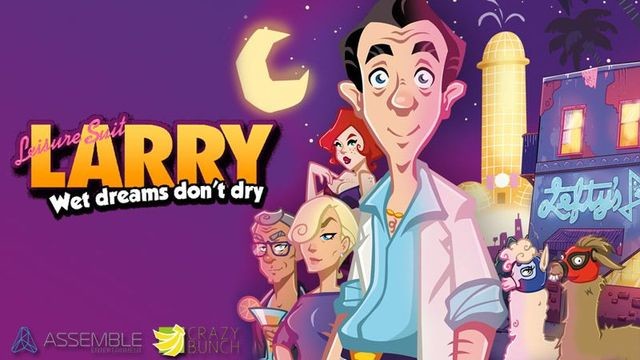 Leisure Suit Larry: Wet Dreams Don't Dry is a new point-and-click adventure from German developer CrazyBunch. If you don't count Leisure Suit Larry: Reloaded, which was an enhanced edition of the original Leisure Suit Larry adventure, and Magna Cum Laude, which was an odd collection of mini-games, then Wet Dreams Don't Dry is the first Larry adventure in over twenty years. Given that CrazyBunch is hardly an established developer (with only a pair of VR titles under its belt), and given the long layoff for the franchise, is there any hope that this new entry is entertaining? Or is it simply a money-grab? Keep reading to find out.
Wet Dreams Don't Dry starts off in modern times right outside Lefty's Bar, which was a prominent location in the first Larry game. Larry wakes up — or is cloned, or released by aliens; it's never explained — and immediately starts chasing women. Soon enough, he has a cell phone and he's been introduced to "InstaCrap" and "Farcebook," and he learns that he has to score high enough in "Timber" for women to be interested in him. He also runs afoul of the cell phone maker Prune, Inc., whose headquarters looks like a giant penis. Hilarity doesn't ensue, or at least not often.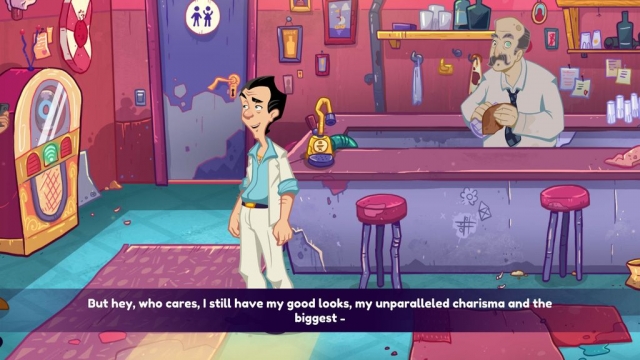 The game is played using a simple point-and-click interface. Left-clicking causes Larry to move to a location or interact with hotspots. Right-clicking causes Larry to examine hotspots. You can also press 'I' to view your inventory or use the spacebar to see where the hotspots are located. There aren't any context-sensitive menus or anything complicated. So Wet Dreams is easy to play.
The puzzles in Wet Dreams are inventory-based, which means you pick up lots of inventory objects and then have to figure out where and how to use them. In general, you use an item to solve a puzzle, which gains you a new item, which grants you access to a new location, where you find another item, which allows you to solve another puzzle, et cetera and so forth. Luckily, you're given enough objects and there are enough puzzles running in parallel that the answers aren't always obvious, and you have to do some thinking. I got stuck a few times and had to resort to some trial-and-error activities, and at one point I even had to consult a walkthrough (when trying to figure out how to rewind a cassette tape), so the difficulty is decent.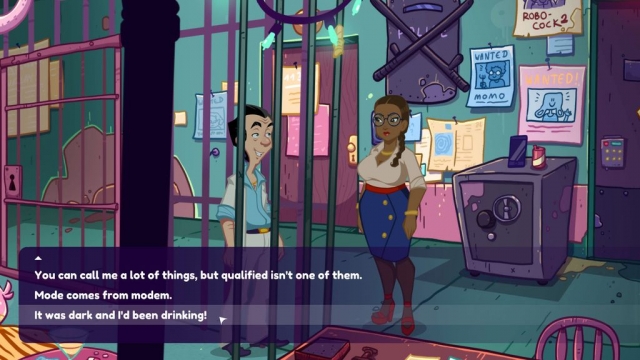 The writing, on the other hand, is mostly on the sad side. The jokes are lazy and target low-hanging fruit (like one cringe-worthy scene where you meet the President — obviously Trump though not named — during a dream), and I found myself shaking my head or rolling my eyes way more than laughing, although I'll admit that I did laugh a few times. There also seem to be some translation issues, like at one point when the game's version of Alexa insults your "niveau." Yeah, a German developer with a French joke that isn't funny in any language.
And so I wasn't wild about Leisure Suit Larry: Wet Dreams Don't Dry. The puzzles work pretty well, and that's the most important thing for an adventure, but the writing is sub-par, and the longer I played the game, the more I felt bad for Al Lowe, the franchise's creator. Wet Dreams is definitely a game for adults — with a slew of references to penises, dildos, fleshlights, and more — but if you're a part of that target demographic, and if you like adventures, then you might get enough out of the title for it to be a worthwhile purchase. Just wait for it to go on sale first.
70%
Reviewed By: Steven Carter
Publisher: Assemble Entertainment
Rating: 70%
——————————————————————————–
This review is based on a digital copy of Leisure Suit Larry: Wet Dreams Don't Dry for the PC provided by Assemble Entertainment.