WWE 2K15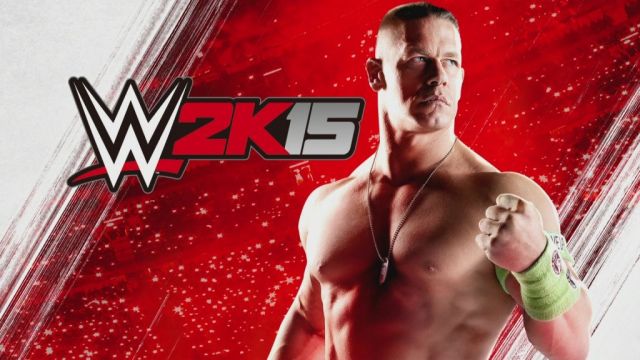 Last year's WWE 2K14 was flawed, but delivered the best overall WWE gaming experience in quite a while. With a robust roster comprised of legends from the first 29 WrestleMania events alongside a WCW-heavy DLC roster and the regular mix of current-day wrestlers, you could have just about any classic match you could imagine. If there was someone missing, they could probably be made easily with either the superstar head tool or the creation suite that enabled 100 characters. Gameplay-wise, the mid-air and running finishers were expanded to include pop-up finishers, and greatly-improved collision detection made slams and throws into tables, ladders, and steps more realistic. Create a championship enabled you to put your stamp on an existing title, or make one with pre-made parts. While it was reasonably good, it also paled in comparison to the last version of this mode in a WWE game, although the quality of the belts themselves looked better.
Now, the franchise is set to make its debut on the Xbox One and PlayStation 4. The core gameplay has been retained, while an all-new chain wrestling system brings a new level of depth to the grappling, and the new NXT roster made of men like Adrian Neville and Sami Zayn makes stellar use of it in virtual recreations of their NXT battles. The MyCareer mode takes you from WWE's Performance Center to NXT, and then finally to the main roster. By telling a compelling story out of the ring and then transitioning into doing that in the ring, this should theoretically be the greatest WWE game of the modern era.
The chain wrestling is new to this series, but bears a striking resemblance to the one used by Yuke's in Wrestle Kingdom 2 on the PlayStation 2. Some of the people chosen to have it are a bit perplexing. John Cena, whose mat game is clumsy at best, has it while the NCAA amateur wrestling champion and former UFC Heavyweight Champion Brock Lesnar doesn't despite the positions leading to some impressive strikes and that fitting his current character. Also, a variety of F5 animations have been taken out despite being in literally every entry in this series since his debut in the franchise in 2003. Ground strikes also can't be altered, which is simply bizarre since you can change ground grapples. This means that everyone is stuck with an odd-looking stomp.
On the upside, kneeling positions have been added – so you can do a comeback off the ground ala Ricky Steamboat and if you're dominating, you can do some sweet running and standing strikes to your opponent in that prone position. However, you're really limited in the amount of moves you can do from this position. WWF No Mercy and WrestleMania 2000 before it had a similar setup, only you had seated and on-all-fours positions for attacks. You could do strikes like here and also grapples, but had far more kinds of moves available – dozens of strikes for each, while seated grapples had dozens of options and you had a few for prone submissions. What we get here is a step in the right direction, but it doesn't take things far enough. Similarly, middle rope dives have been added – although with only a pair of moves for either standing or fallen foes, the point is kind of negated. Many throws have been around and quite a few flying attacks have been taken out as well, and Brock Lesnar still has an odd shooting star press that fits a high flyer, but doesn't fit how he did it.
Some new things have been added, like ground specials that don't use up a slot like Cesaro's giant swing. However, alternating between either that or a stored finisher with the foe instantly getting up is tricky due to how finicky the movement can be. Sometimes, you'll just move around a bit on your own and there does seem to be a bit of input lag with strikes and movement. It makes simply moving around the ring hard, and for some reason, instead of just allowing you to do a ground move in a corner, you'll usually go through this long and elaborate animation (as will your opponent if they're in the same spot) where you bring them mid-ring and then do the move. Past games had no trouble with moves being done near ropes, but it's now something that slows the pacing down even more.
The biggest downgrade for the gameplay is how the grapple system was changed around so needlessly. Last year, you pressed a direction to go for one of four tie-up scenarios and you'd be able to do ten total grapples and a strike from each setup from the front and that same variety for one back position, so you had tons of options thanks to the limb damage system that was tied to each kind of tie-up. It allowed you to have a wrestler really focus on a body part, and that helped turn matches away from being pure headhunts into more organic matches. Now, everything has been dumbed down into this odd imitation of the Aki engine. In theory, you've got light, medium, and hard grapples along with limb damage. However, it's kind of difficult to figure out if you'll do a medium or a heavy move since short-term and longer-term groggy states are so similar-looking. As a result, you can plan to do a certain thing for the match and then just do something else entirely. What's worse is that the limb damage setup has been butchered as well. There's only one set of limb damage attacks available, so you can't have someone like Arm Anderson, who would do tons of things to the arm actually do them now.
You basically get one extra moves slot compared to older games as opposed to 2K14 giving you tons of them. While you could wind up with a lot of overlap, it was good to have the option and allowed for easy updates of Brock throughout the year as he did things like tons of German suplexes and even rolling suplexes – now you've got to pick and choose things and you wind up with a far worse game to actually play. There's no way to have a completely accurate version of a character and even a guy like Cesaro who did motion capture and has things like his standing gutwrench taken out of his default moveset because there's no room for it.
The end result of all of these gameplay changes is something where it's an honest to goodness struggle to have a realistic wrestling match. They've slowed things down a bit and added in small things like movements towards the rope and exhausted animations for that and pins, but didn't get the bigger picture. The actual flow of a match was so much easier to replicate when you were given tons of options instead of being locked into things. Ironically, last year's game allows for a far better Brock Lesnar vs. Cena at Summerslam recreation since you can do so many things, including finishers, to start a match off if you so desired. You didn't have to set things up to allow finishers, but you could and it allowed for things like one-move squash matches which are really a thing in wrestling and deserve to be replicated. In yet another odd change, ladder finishers have been standard for years and now have to be assigned with an ability. Why things were changed around to this degree, I have no idea. Things worked just fine before and 2K14 felt like just about what the series should be, and 2K15 is a massive downgrade in some big ways.
The past few games featured Superstar Threads, where you could keep the in-game roster updated to some degree visually by changing the color schemes of attire. Given that a lot of guys like Kofi Kingston keep the core design and just change the colors around, this worked really well. Now, that feature has been replaced by being able to tailor attire with an in-depth creation tool, but at the expense of a creation slot ala WWF No Mercy. While that game allowed essentially unlimited slots with memory cards, you're limited to just 25 total here – not even profile switching will give you more. Last year's game had the same basic idea of recreating some of the in-game roster and using up a slot, but you also had 100 to work with. You're going to miss one slot out of 100 far less than you will one out of 25, and there are some major changes that need to be made to keep guys updated.
Rollins and Ambrose have completely different looks now and with the addition of Sting to the roster and his many attire changes being just color-based, it really hurts him in his first WWE game to just be limited to two attires. Yellow and blue are what you get for his retro gear, while black and white serves as the Crow Sting. Want Wolfpac Sting? That will take up one of your creation slots. Similarly, Brock's gear has been iffy since his 2012 return due to the lack of sponsors, and while you can add them now with the creation tool, you can't just switch his gear to the current black shorts. Sure, just changing the color wasn't perfect last year, but it was good enough.
What's worse is that editing the attires takes a long time. Despite this being the era of mandatory installs, there are massive loading times just about everywhere, but they're horrible in the creation suite. Simply going from Shield-era Dean Ambrose to his current jeans and tanktop look took about 15 minutes due to the somewhat clunky setup. You can't preview attire and move it around, and going back doesn't just send you back one screen, but it can send you back two screens – resulting in you having to go through, re-pick the shirt, then re-load it. Changing colors takes more time now than it did before too. Luckily, the overall look of the menus is much cleaner than it was before. The creation suite has largely looked the same for years, but navigation is easier than it was before.
One standard thing that fans have become used to is having a ton of match options. Now, tons of them have been removed. You can no longer have triple threat ladder, TLC, or cage matches. You can't modify matches now, so if you want an ECW-style elimination three way match instead of a single elimination match, you can't. Some things, like the created wrestler count being down, kind of make sense with the increased fidelity. This makes absolutely no sense though. How much space can a simple gameplay option make? On the upside, triple threat tag ladder matches are in – sadly, no 2 vs. 2 vs. 2, so no TNA tag series recreations.
2K Showcase is basically the same thing as last year's 30 years of WrestleMania mode and WWE '13's Attitude era recreation, only with a more cinematic setup that is slightly less clunky than before. Going through either the Punk-Cena rivalry from 2011 through 2013, with a variety of guys outside of that getting involved and the HBK-HHH rivalary from '02 onwards, you'll recreate history with objective-based matches like past games. You've got a goal to reach, you reach it, then another one hits, a little cutscene plays out, and things transition rather awkwardly from the cutscene to the game again. There are also points where the real-life show audio is used and it sticks out like a sore thumb due to how much more cluttered the audio is and how more vocal the fans are in that footage than in the game itself. 2K Showcase is a fine way to relive the good and bad of the 2011 Summer of Punk feud, but it's also something that fans of the series have played through before, so it can get old quickly.
Speaking of which, MyCareer is new and yet also not all that new. Like past games, you make a character and start from the bottom and work your way to the top. Before, there was at least an attempt to craft a storyline. Now, it's just a series of matches and you get to hear Bill DeMott yell at you in the Performance Center about impressing the WWE Universe and being a top WWE Superstar. WWE's wacky jargon is annoying enough on TV, but when you hear it constantly in repeated voice clips, it's maddening. There's an in-depth stat system that you can upgrade that should be fun, but it really just feels like busy work. Far too many of the matches in this mode feel that way too, and it's a shame since the story of "rising through the ranks of WWE" can be compelling – it's worked wonders for some current-day WWE acts like Rusev, but it isn't replicated with this by-the-numbers offering.
Online play is a bit less laggy than 2K14. However, like that game, the use of the timing-heavy pin escapes and now a mat wrestling system causes problems. Each relies on accurate timing to ensure a fair fight and any lag can make countering tough. The groggy state also means you'll be a sitting duck for damage since you'll time things as you would offline, but lag changes things so you wind up doing counters a small percentage of the time that you want to. Offline, the Universe mode is about the same as ever, but has more storyline options and a much better menu system that makes customizing things to your liking easier than before.
Visually, 2K15 keeps things familiar, but does change up things in some big ways. A HUD has largely been absent outside of small on-screen cues, and it allowed for a more authentic experience. Now, you've got a variety of meters to keep track of including a damage meter, a momentum meter, a percentage meter tied into the momentum meter, and the on-screen body that shows how much damage each limb has taken. The screen can definitely get a little too cluttered, but it's rarely distracting and doesn't take up any on-screen real estate outside of the lower-third of the screen. I thought I would hate the HUD since I've grown so used to the lack of one, but it doesn't bug me during the course of the match. I like looking at it and getting a general feel for how far away I am from earning a signature and a finisher, which is better than guessing like in prior games. It's a bit too bright and colorful for my liking, but all of the colors do at least represent vital health and information, so it's at least purposeful.
Now, with 2K15 having character models so robust that they're seemingly the reason that you can only have 25 creations instead of 100, they should be amazing, right? They're certainly detailed, but the faces look like they're a skin suit plastered over a body mold – they just don't have much depth to them. Everyone still has a bizarre action figure shine to them and hair is simply awful. We're in an era of TressFX and it's amazing to see hair stuck at PS2-levels here – and it's immediately apparent when you have Kevin Nash and a long-haired HHH all over 2K Showcase mode sticking out like a sore thumb. Short hair isn't even a guarantee as Ryback's five o'clock shadow is front and center in 2K Showcase and yet it looks like a dirt smear.
Similarly, championship belts still look rather dreadful, with leather that appears to be stiff and in the case of the spinner title, they somehow took one of the most detailed and layered belts ever and turned it into a flat thing with no life to it. All titles are hurt by the side plates appearing to just be embedded into the leather – they literally bend with the leather. On the upside, collisions between bodies and ladders now look far more realistic as do landings in the rope. You rarely have issues with things just flying around randomly because of where a body part lands and you can even do things like mounted punches on top of a ladder on the mat now.
Move animation is largely better than before, with revamped motion capture leading to things like a beautiful snap suplex and Sting having his most accurate animations ever. This is honestly the best-feeling Sting yet in a game, and he's been in games since the NES days officially with many games having his parts for accurate recreations. Even after years of using created versions of him in this series, I was impressed at how all of his little nuances for the Scorpion Deathlock were replicated that I didn't even really think about until seeing them again here and it jogging my memory. This makes the inability to have more variety with his look that much more disappointing, but hopefully he's made a regular part of the legends roster going forward.
Much like the motion capture, massive upgrades were made to the audio this year. After many years of commentary being both repetitious and dreadful, it's now far less repetitious thanks to a lot of new lines being added. Sadly, everything still rotates around so you hear things over and over again. No entry in this series has yet to top the Yuke's-crafted UFC games where the commentary sounded organic, and it's a real shame. Commentary can add a lot to a match, while bad commentary can take away from one, and the same holds true with the games.
The sound effect work for the series has usually been solid, with some puzzling issues in the past. Last year's game had a nice Elimination Chamber to look at, but of course the giant metallic structure made no noise when you were slammed on it. It completely killed the effect of things, and while no game has quite topped WrestleMania XIX on the GameCube for having metallic landings sound like they're crushing organs, this comes fairly close. Ladder shots sound far more realistic now, and that ties in nicely to the redone collision detection to make weapon-filled matches a bit more fun.
The in-game soundtrack is okay, but the hand-picked songs from John Cena don't really seem to fit a wrestling game. Last year's game had a nice option where you could fill the menus with just wrestling themes, but you can't do that this year. Also, custom soundtracks for creations are completely gone – so if you do either make or get a perfectly-updated character, if they require a new theme song, you're completely out of luck.
While WWE 2K14 was easily the best WWE game in a long time, WWE 2K15 is the worst entry in many years – even the troubled SmackDown vs. Raw 2008 had more going for it than this. Some sacrifices in features, like losing created championships would be acceptable to some degree if the core gameplay was solid. However, that was needlessly changed around and it results in a far worse product. The removal of basic things like match customization further cripples the fun, which is something you won't experience very often in the by-the-numbers MyCareer and 2K Showcase modes. Each goes through the motions of combining in-ring action with storylines, but fails in a different way.
Unfortunately, the launch week edition of WWE 2K15 (is there any other name to really call a game now?) isn't worth buying. It's worth renting if you're a die-hard fan, but suffers from too many problems that really shouldn't be present in a series entering its 15th year. Hopefully, like with EA Sports UFC, a heavily-flawed launch product gets fixed up significantly down the line. Sadly, potential doesn't do a lick of good right now, and given that the Xbox One version already has a crippling bug where going online results in many having their MyCareer data reset, this is impossible to recommend on that platform.
This series has had some major blunders before, but this is the worst-played and least-fun entry yet. Normally, there's at least a silver lining or a sliver of hope that things will get dramatically better. Sadly, because this game's problems run so deep to the point where even replicating a wrestling match is a struggle, that seems unlikely. Hopefully, the next installment takes things back to where they were in 2K14 gameplay-wise and just expands on that with improvements here like more context-based specials and the chain wrestling because the attempt to change the flow of matches absolutely kills things. For a series that needed change, it got the wrong ones this time around. I adore pro wrestling and love how much better this series has gotten, but this is just a failure in far too many important ways. I didn't think it was even possible, but a wrestling game has been crafted that I do not want to play. There is absolutely nothing this game does well enough beyond Sting that makes it worth playing over WWE 2K14. Yuke's seemingly wanted to reinvent the wheel, and instead of getting a round one that moves you along smoothly, you get a blocky wheel that may move you forward, but will result in a much bumpier ride than needed.
55%
Reviewed By: Jeremy Peeples
Publisher: 2K
Rating: 55%
——————————————————————————–
This review is based on a retail copy of WWE 2K15 for the PlayStation 4 provided by 2K.