Pinball FX2 VR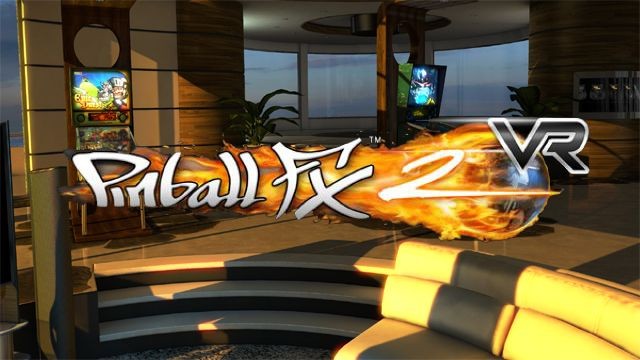 Zen Studios has spent the past decade crafting the best pinball experiences in gaming. They've done a bit outside that realm – including CastleStorm, which gets a themed table here, but their bread and butter is definitely with pinball games. With an emphasis on realism and recreating the real-world physics of the pinball tables they've crafted, Zen's work has stood head and shoulders above the rest for the genre. This is Zen's first foray into VR and winds up delivering the best replication of arcade-style tables yet.
The in-game world isn't one that you can explore with a great deal of depth – but it does look fairly good. You start up the game on a couch before going around your table-filled lounge and picking which table to play. You're limited to a three-table loadout at one time – which seems a bit odd on the surface. You have three tables to start with, but far more options available overall. When adding in DLC content like The Walking Dead: The Telltale Series, this means that you'll have to really pick and choose your favorites. This can lead to players either missing out on tables or just not giving them much of a chance.
With so few modern-day players having experienced a real-life pinball machine, having one in a VR world is quite the interesting experience. While you can't replicate putting your drink on the glass (without a coaster, I might add), you can still do things like peer into the glass to get a better view of the detail work within the table itself. Being able to look around the room definitely helps with the immersion, and each table has its own customized surroundings.
It turns the in-game home into the ultimate connected home thanks to all of the little knick knacks and lighting effects that are on display. The Mars table gives you a faux-liftoff effect as well as calls from the bridge about you being in danger or in fact, dead. The Walking Dead DLC table has easily the coolest in-world effect by having an actual zombie hovering over the table. This is both creepy and fairly cool as you'll hear him no matter what – so if you don't want to see him and focus on the table, you can. However, you'll still hear him and be creeped out more often than not. Secrets of the Deep's underwater stage is probably the best overall – and the one that replicates being underwater surprisingly well thanks to all the visual effects like bubbles and waves.
Compared to the 50+ tables available in the regular Pinball FX 2, the game's default lineup of three does feel a bit anemic by comparison. DLC tables flesh things out somewhat, while an entire season's worth of extra content is available to buy now – adding in five tables and then one more with the Walking Dead table. There's always an argument for quality mattering over quantity, and given that each table has to be revamped for VR and then also have themes added to it, the slim selection does make sense. It's not like the game feels like a rip-off, it's just that your dollar doesn't stretch quite as far here as it did before and that can be a bit of a buzzkill.
Fortunately, while the table selection is limited, each table is infinitely replayable. The visual themes alone make replaying them a lot of fun since you will always notice little things. At first, Epic Quest's table just stands out because of the cartoon soldier nearby – then you look up and notice that the world outside the in-game room has been replaced by cartoon-style waves. The shark-infested waters of the ocean table are amazing at first, and then you notice the sharks eating things in the background before flying towards you after a game over. Little touches add up to big things here.
Similarly, the in-game table physics keep you coming back because as you pick up on the little nuances of each table, you want to get better. You'll start off with a six-figure score and then get a high six-figure one before breaking the million point barrier. Picking up on skillshots and the best angle and power level to use leads to new and exciting results, and keeps you hooked. It also forces you to think more while you play and learn each table.
Visually, there are definitely some sacrifices made when compared to the full-fledged Pinball FX 2 – but they're not too extreme. The tables themselves still look fantastic even if the in-game world could use a bit more detail in it. The texture work for the couch and floors would definitely benefit from more work on the default PS4 – and probably look a bit better on the PS4 Pro. Still, the most important part is how well the core pinball action is replicated and that remains outstanding.
The overall presentation improves even more with the sound design. The in-game world sound effects and voice work may not replicate the feeling of having fellow arcade-goers chowing down on food and swapping advice, but it does a fine job with what it tries to do. Instead of going for something that can't be done, they focused on something that would enhance the experience and achieved that goal. The music is also outstanding and not only fits each table, but gets you excited – especially the stirring sounds from the Epic Quest table. The Walking Dead table probably has the best sound bites, but the space-themed one is a close second with its many "Houston, we have a problem!" and other such tropes being thrown around. Using Astro A30s, the sound of the in-game room really did come alive more – although just using my TV's default speakers was fine as well.
Pinball FX2 VR is sure to please existing fans of the series – but newcomers may want to just stick with the mainline game for now. The cost-to-value ratio on this game isn't quite as high due to the comparative lack of content, but what's here is very good. The table themes for the in-game world are outstanding, and do somewhat offset the lack of content. Visually, everything looks solid on the PS4 with a bit of room for improvement with more powerful hardware. The sound design as a whole is excellent and does benefit from the more immersive PlayStation VR setup using either good headphones or a quality home theater system.
85%
Reviewed By: Jeremy Peeples
Publisher: Zen Studios
Rating: 85%
——————————————————————————–
This review is based on a digital copy of Pinball FX2 VR for PlayStation VR provided by Zen Studios.