LEGO Dimensions Launches Three New Fun Packs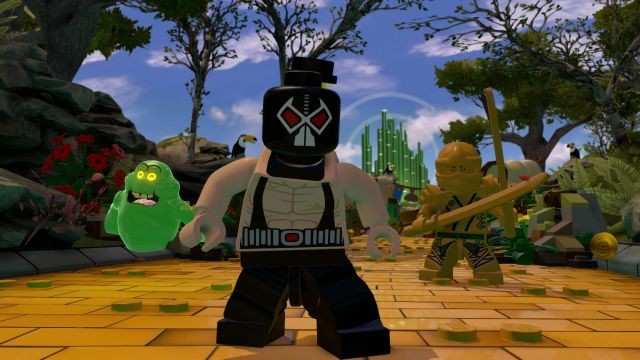 Warner Bros. Interactive Entertainment announced today the release of the DC Comics Bane, Ghostbusters Slimer and LEGO Ninjago Lloyd Fun Packs.
DC Comics fans can broaden their LEGO Dimensions gameplay with the buildable Bane Fun Pack. Players can place the buildable villain on the LEGO Toy Pad to bring him to life in the game, and then activate his Hazard Protection, Big Transform, or Super Stealth abilities to solve puzzles and overpower enemies. His 3-in-1 Drill Driver will boost gameplay, and can be rebuilt into the Bane Dig 'n Drill and the Bane Drill 'n Blast for upgraded in-game abilities.
Players who want to slime their enemies can construct Slimer, the glutinous ghost, included in the Ghostbusters Slimer Fun Pack. They can fire his Hot Dog and activate his Boomerang, Sonar Smash, Flying, Dive, Hazard Clean, Illumination, Mini Access and Hazard Protection abilities to solve puzzles and battle enemies. When he needs backup, players can call in the Slime Shooter and rebuild it into a Slime Exploder and Slime Streamer for upgraded powers in the game.
Players can put their ninja skills to the test with the LEGO Ninjago Lloyd Fun Pack, featuring a buildable Lloyd minifigure, two Golden Katanas and rebuildable 3-in-1 Golden Dragon. Players can use Lloyd's two Golden Katanas and activate his special Spinjitzu, Illumination, Acrobat, Laser Deflector and Stealth abilities to solve puzzles and take on enemies in true Ninja style! When it's time to take the battle to the sky, launch Lloyd's Golden Dragon and rebuild it into a Sword Projector Dragon and Mega Flight Dragon for enhanced powers.
These Fun Packs round out the first five waves of LEGO Dimensions expansion packs, with many new expansion packs based on more brands to be revealed soon.