New Skylanders SuperChargers Toys and Racing Pack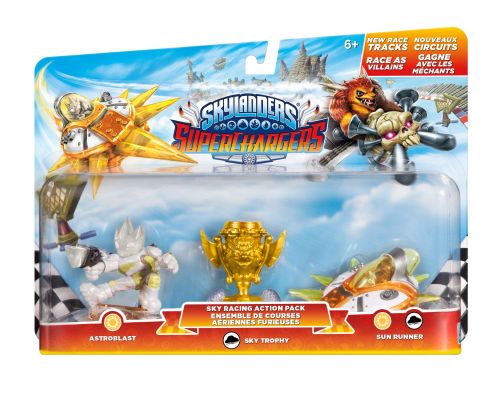 To kick-start the season, Activision is offering a special holiday Skylanders SuperChargers character: Missile-Tow Dive-Clops. The fun-loving character is a heavily armored deep sea explorer with an eye out for evil who slows enemies with candy-coated missiles. Missile-Tow Dive-Clops is available in the United States and Canada on December 2nd, first at GameStop and EB Games, respectively.
Also available for the holiday season at Toys"R"Us stores nationwide and online at www.Toysrus.com is the toy line Eon's Elite, including fan-favorite characters Slam Bam, Zook and Voodood, as well as a new set of heroes — Ghost Roaster, Boomer and Dino-Rang — available first at Toys"R"Us beginning on November 29th ($19.99 MSRP).
Fans also can get their hands on the second Skylanders SuperChargers Racing Action Pack, now for Sky terrains ($34.99 MSRP). The Sky Racing Action Pack features Astro Blast and Sun Runner, as well as a Sky trophy which unlocks new tracks and modes. Astro Blast, the adventurous space cowboy, is SuperCharged and ready to take on the bad guys in his Sun Runner spaceship, fully equipped with anti-gravity and speedy capabilities.