Activision Announces Skylanders SuperChargers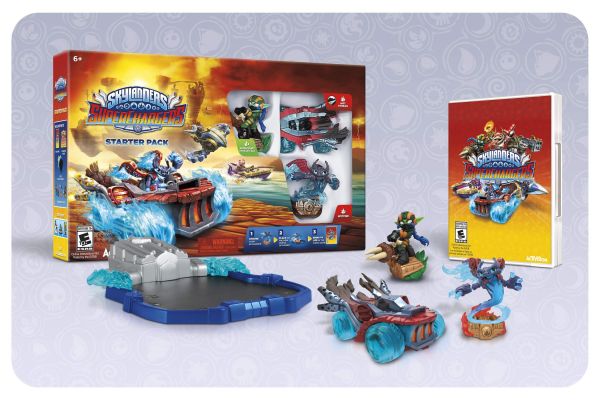 Activision today announced Skylanders SuperChargers will launch on September 20th, expanding upon the franchise's signature gameplay to introduce vehicles-to-life.
Players can speed across Skylands' roads in vehicular combat, race down roaring rapids and engage in aerial dogfights as they barrel-roll through enemy swarms for the first time. Developed by Vicarious Visions, Skylanders SuperChargers offers a story-driven gameplay experience, filled with vehicle-based and on-foot adventures, combat, puzzles, mini games, activities and platforming, set within a variety of all-new environments.
Skylanders SuperChargers features a brand-new class of heroes, called SuperChargers who are distinct with fresh moves, powerful attacks and all-new weapons. These SuperChargers also have special in-game abilities that help Portal Masters fight Kaos. Twenty new SuperChargers character toys and 20 new vehicle toys will be available.
Players will have the ability to customize all vehicles in-game with modifications and upgradeable weapons. For the ultimate gameplay experience, players can pair a SuperCharger Skylander with its signature vehicle to create a SuperCharged combination, unlocking an exclusive mod that revs up the performance of both the vehicle and character. Not only are the vehicles playable in the game, but also many feature moving parts, making them fun to play with outside of the game. Additionally, Skylanders SuperChargers supports all 300+ Skylanders toys from previous games, enabling all Skylanders characters to pilot land, sea or sky-based vehicles.