Transformers: Rise of the Dark Spark Pre-Order Details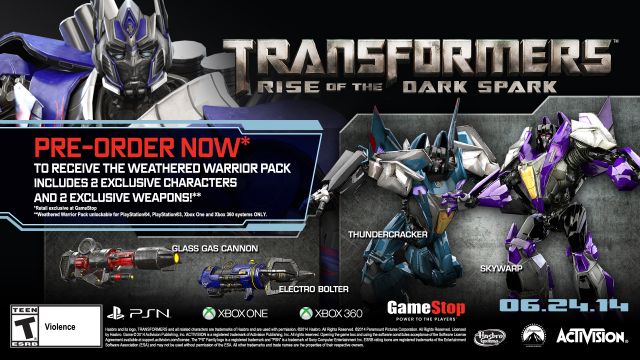 Activision today announced the pre-order details for its upcoming third-person action adventure, Transformers: Rise of the Dark Spark. All pre-orders through GameStop will gain access at launch to new characters and weapons in Escalation, the game's wave-based, four-player cooperative multiplayer, survival mode.
GameStop pre-orders will earn the "Weathered Warrior Pack" DLC, which includes two characters – Thundercracker and Skywarp – both masters of combat in service of the Decepticons. The collection also delivers two new weapons: the distortion field-generating Glass Gas Cannon and the long-range, kinetic projectile-spitting Electro Bolter. These weapons will also be available for players' use in the story-based Campaign and Escalation modes once they are unlocked. The Weathered Warrior Pack is available for PlayStation 4, PlayStation 3, Xbox One, Xbox 360 and PC only.
Transformers: Rise of the Dark Spark is expected to be available on June 24th.