High Life Update for Grand Theft Online Now Available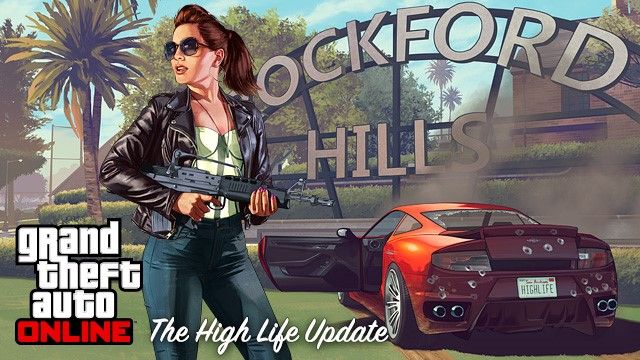 Rockstar Games today announced that The High Life Update for Grand Theft Auto Online is now available for download.
The High Life Update gives players the chance to live large in Los Santos with the ability to own two properties at any one time. With the addition of five new apartments, players can add to their real estate portfolio with hot new listings at Eclipse Towers in Vinewood, Richards Majestic in Rockford Hills, Tinsel Towers in Little Seoul, 4 Integrity Way in Downtown, and Del Perro Heights by the beach.
With the added storage space of owning two garages, players will have ample room to park the all-new vehicles The High Life Update offers, including a trio of luxury cars and a new motorbike. The Enus Huntley S (SUV), Dewbauchee Massacro (Sports), Pegassi Zentorno (Super) and Dinka Thrust (Motorcycle) are all now available to purchase from Legendary Motorsport. These vehicles can also be accessed from any garage in Story Mode, adding a new spin to mission replays.
And because success breeds jealousy, the Bullpup Rifle is now available in Ammu-Nation to help protect your assets.
To download today's free update, fire up your connected PlayStation 3 or Xbox 360, start Grand Theft Auto V and download the automatic update (1.13) when prompted (Xbox 360 players will also be required to download an additional compatibility pack upon entering GTA Online).