Wolfeinstein: The New Order Panzerhund Edition Announced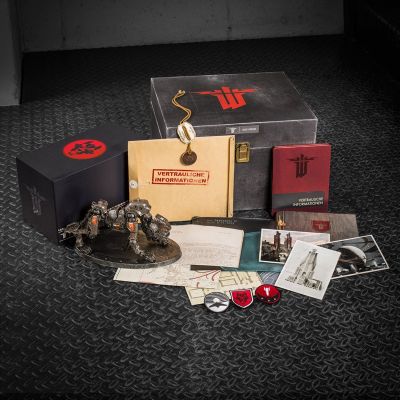 Bethesda Softworks today announced the Wolfenstein: The New Order Panzerhund Edition, a collection of premium items from the Wolfenstein universe, will be available on May 20th for $99.99 through its online merchandise store. Fans can pre-order this exclusive collection now at store.bethsoft.com.
This Panzerhund Edition, limited to 5,000 units, comes packaged in a vintage footlocker-style box, each with an individually stamped number plate (approximately 20″ x 10.5″ x 8.5″), that includes the following items:
An 8 inch fully articulated hand-painted Panzerhund statue and base
Classified folder containing salvaged secret war documents including maps, case files, letters, blueprints and an x-ray
A set of 14 full-color 'vintage' postcards from Wolfenstein's alternate 1960's, bound in a display book
Three embroidered patches
Custom replica dog tags
An exclusive Steelbook case to house your copy of the game (actual game sold separately).