Madden NFL 25 Next-Gen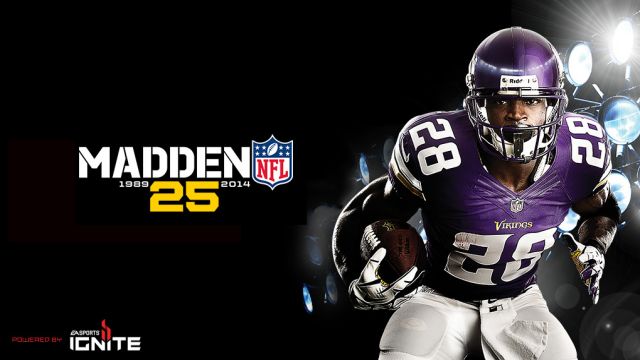 Madden NFL 25 on the Xbox 360 and PlayStation 3 is a tremendous game of virtual football. The gameplay was sharper than ever, the presentation was fresher than ever, and the 25th anniversary touches made it a wonderful ode to the series. The funny thing is that as good as the game was, all it did was whet my appetite for what the PS4 and Xbox One could do to make it even better.
Enter Madden NFL 25 on the next-generation platforms, as EA Sports is tasked with taking an already-great formula and leveraging the new hardware to maximize how the game is played. It's no surprise that the biggest changes made here are in the graphics and physics departments. EA touts that they are bringing as much as 10x the graphical detail of current-gen versions, and after playing the game for some time now, I believe it. As far as the physics go, this game still feels like Madden – but a much better and more realistic version of it.
Let's get this clear right off the bat: It is absolutely, without question, unequivocally worth upgrading to the next-gen version if you already own the game on the PS3 or Xbox 360. The visuals and physics alone would justify the purchase. But they haven't stopped there, adding in a few new features here and there that complement the package nicely.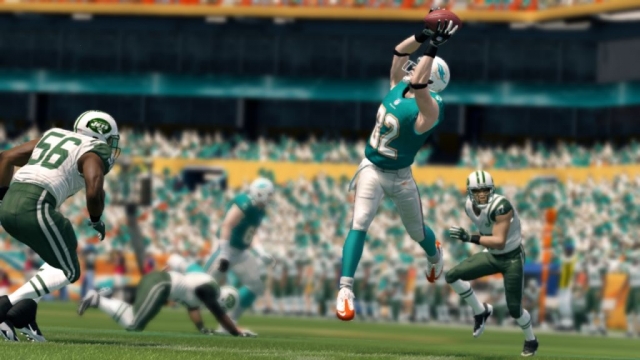 It does start, however, with the visuals. Madden has never looked so good. The player models, ground surfaces, weather effects, animations, and movements all look simply fantastic. It's actually quite easy to forget how great it looks. I actually went back and popped the PS3 version in and started up a game just to get an after-the-fact comparison, and I was floored by how much improved the next-gen version is by comparison. The crowds, too, look fantastic. For the first time, we've actually got something to look at besides cardboard cutouts moving in unison. The spectators move in varied ways, and you'll even hear jeers, cheers, and boos at appropriate and relevant moments. It all adds to the experience of the game, and it all looks awesome.
Not only does the game look better, it behaves much more realistically as well. In the current-gen version, it still seemed like the players just weren't too smart. They missed holes, ran by opponents, and did other things that made no sense far too often. For the next-gen, EA Sports has introduced a feature they call Player Sense, which they tout as a system by which each player on the field is able to read the plays and make decisions (albeit calculated ones) as a real football player would. AI running backs will adjust routes to match a blocking scheme or blitz, wide receivers will cut off a route if the safety is cheating the play, etc. It's not something you'll notice on every play, but when you see these adjustments and decisions being executed, it'll hit home how much improved the AI truly is.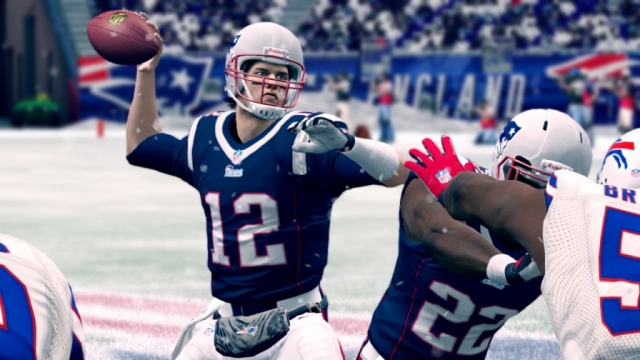 Along with the visuals, the sound is also brought into the next generation in a big way. In the current-gen version of Madden NFL 25, I still don't feel like they had a commentary system that worked. It was still way too repetitive and ill timed in too many situations. For the first time, I finally feel comfortable leaving the commentary on. When you play a sports video game, you want to be immersed in the experience. To me, the sign of a good audio/commentary engine is that you don't have moments that draw you out of that experience. Here, there are fewer of these moments than ever before. Repetition still exists, of course, due to an unavoidably finite amount of phrases, but it's not nearly as severe as it has been in the past.
Finally comes the gameplay. Going into this game, I was expecting essentially the same game with better visuals. I was badly mistaken. This game sports a new engine, True Step technology, and better AI, and it adds up to a gameplay experience that is very, very realistic. I mean, it's very realistic. Some have criticized the game for being so realistic that it takes the fun out of it. I, for one, could not disagree more, because for the first time, you actually have to move and prepare like a real football player would.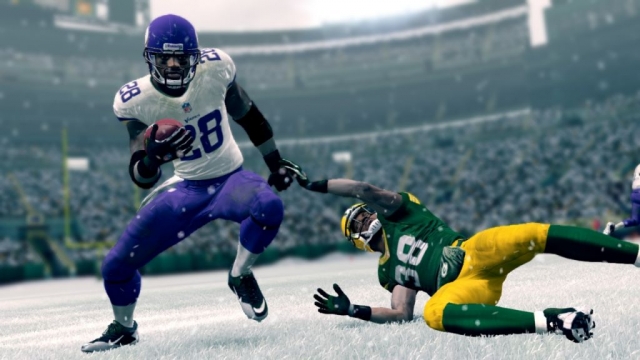 You cannot change directions on a dime, and your body position and momentum matters. The quarterback is the best example. You have to consider your body's momentum and your foot placement at all times. If you're moving – even slightly – your accuracy and power is not at full strength. If you're moving backward from a sack, no longer can you simply push the receiver's button and zip the ball to him. If you want to throw the ball in the next-gen, you have to plant your feet. As a running back or receiver, you need to plan for cuts. Unless you maneuver your momentum correctly, a juke will not do you any good, because you won't have planted your outside foot to push off. These are things you cannot understand until you play the game, and when you do, you'll appreciate it. The remainder of the gameplay and featured modes are largely similar to Madden NFL 25 on the current-gen, so feel free to browse our review for that one as well.
I can think of very few ways in which Madden's transition to the next generation of consoles could have gone any better. The visuals are beautiful, and the gameplay enhancements from the new engine, improved AI, and True Step technology are tremendous. Some may find that it's too realistic, but I believe that Madden purists won't be able to get enough of it. EA Sports has managed to take the proven formula and improve upon it, creating an awesome transition to the PS4 and Xbox One. If you're a fan of the series, or even of football, and you own a next-gen console, then you simply must own this game.
95%
Reviewed By: Dan Nielson
Publisher: EA Sports
Rating: 95%
——————————————————————————–
This review is based on a retail copy of Madden NFL 25 for the PlayStation 4 provided by Electronic Arts.