Colossal Xbox One Arrives in Toronto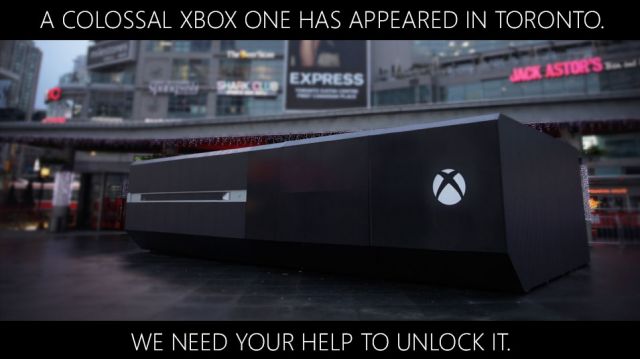 Today, the colossal Xbox One appeared for a third time, this time at Yonge-Dundas Square in Toronto. The larger-than-life console – part of the project known as One Source – brings together the Canadian Xbox Live community to celebrate the launch of Xbox One.
By pledging with their gamertags, fans can unlock one-of-a-kind experiences and rewards like the Dead Rising 3-inspired zombie uprising in Vancouver and the Forza Motorsport 5 speed drives at Circuit Gilles Villeneuve chin Montreal. Every gamertag pledged will contribute to unlocking these experiences.
Canadian Xbox fans can pledge with their gamertag to One Source in three ways: either in person at the console, through the Xbox Live Dashboard, or online at www.xbox.ca/onesource. Fans that take part early will have more chances to win prizes, and as community support grows, fans will continue to unlock unique, immersive experiences.
Xbox One arrives in stores on November 22nd for $499.99.