Day One Content Announced for Xbox One Launch Titles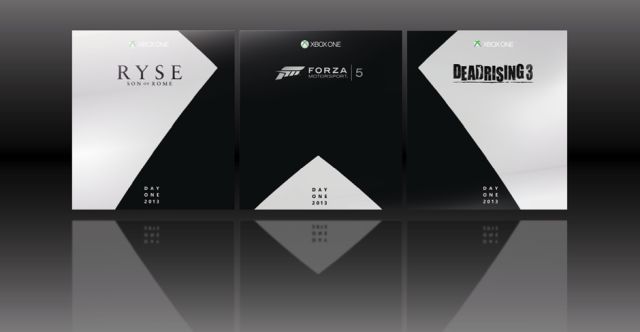 To commemorate the launch of Xbox One, Day One Editions are special game SKUs that include exclusive content and are available only through retail pre-order while supplies last, or via download on Xbox Live the first two weeks after launch.
Forza Motorsport 5 Day One Car Pack
This three-car pack features cars from Lamborghini, Audi, and Ford; each with a Day One-themed livery and custom tuning package created by Turn 10:
2010 Audi TT RS Coupe
2013 Ford Focus ST
2011 Lamborghini Gallardo LP570-4 Superleggera
Dead Rising 3 Day One Edition
Dead Rising Tribute Pack featuring exclusive game content and bonus attribute perks:
Classic Frank West outfit with Frank's Zombie Slugger weapon, extra gory attacks and a custom skill move. Also includes attribute perks for increased melee damage and tougher survivors.
Official Chuck Greene outfit with Paddle Saw combo weapon that cuts through zombie hordes with increased damage and durability. Also includes attribute perks for vehicle and weapon durability.
Ryse: Son of Rome Day One Edition Exclusive Gladiator Mode Unlockables
The Day One Edition of Ryse: Son of Rome will give players access to an exclusive Gladiator Mode Co-Op Multiplayer Map and an exclusive Sword add-on. Owners of the Day One Edition will be able to invite friends who own the Standard Edition to join them on the exclusive map.
Legionnaire's Trust Exclusive Sword: From the Brotherhood of Metalworkers high in the Swiss Alps comes this well-crafted, finely hammered blade that includes bonus in-game attributes.
Ruins: Placing gladiators among the columns of an abandoned temple, Ruins will pit players against hordes of Barbarians, attacking from around every corner. The arena changes dynamically during gameplay, adding new obstacles and objectives for the player to encounter and overcome.