Xbox One Coming this November for $499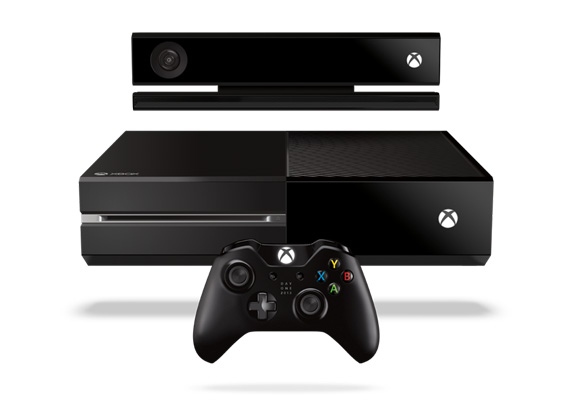 Microsoft today announced that Xbox One will launch in November. Every Xbox One system sold will include the new Xbox One console – which features a 500GB hard drive, Blu-ray player and built-in Wi-Fi – the new Kinect, one Xbox One Wireless Controller, and a free 14-day trial of Xbox Live Gold for new members. The Xbox One launch bundle will be available for $499.99.
To celebrate the launch of Xbox One, Microsoft is also introducing a special limited edition commemorative bundle to fans who reserve the system at major retailers. Reserving the commemorative bundle will guarantee that you'll be able to purchase the new system on day one. Each commemorative bundle will include an Xbox One system that comes in premium black packaging with a limited edition Xbox One Day One wireless controller, as well as a unique commemorative Day One Achievement.
Gamers who pre-order the following exclusive Xbox One launch titles will receive special bonus content:
Ryse: Exclusive multiplayer map and sword with bonus attributes.
Forza Motorsport 5: Instant access to three cars tuned to the top of their class.
Dead Rising 3: Exclusive Frank West and Chuck Greene Tribute Packs with bonus attributes.
Additionally, Microsoft announced that every Xbox Live Gold member – new or existing – will receive two free Xbox 360 games per month starting July 1st until the release of Xbox One, including titles like Halo 3 and Assassin's Creed II. And to celebrate E3 in the month of June, Xbox Live Gold subscribers will receive a free download of Fable III.
Xbox Live Gold membership on Xbox One includes an expanded list of friends that lets you stay connected and play with more people through Xbox Live. Not only does an existing Xbox Live Gold membership for Xbox 360 carry over to Xbox One, you can still join for as low as $5 per month, and now anyone in your home can access most Gold member benefits on your Xbox One at no additional cost. Your Gold membership also travels with you wherever you go, turning any console into your own.
Xbox Live Gold unlocks Twitch as a built-in experience on Xbox One, allowing gamers to broadcast their gameplay as well as view and interact with other live gaming broadcasts. Twitch on Xbox One also includes the ability to discover video content that spans everything from e-sports events to user-generated original shows and game walk-throughs. Other benefits of Xbox Live Gold on Xbox One include the following:
Access to the multiplayer community. All of your friends can come together on Xbox Live to play the best games for the ultimate bragging rights. Backed by a cloud service, matches are now bigger for games across Xbox One.
No more waiting for matchmaking. Smart Match on Xbox One allows for asynchronous matchmaking, where the system begins looking for your next match while you continue to game, watch TV or listen to music. Smart Match also instantly finds people you want to play with, where your reputation also plays an important role.
Rewards for good reputation. Your new Xbox Live reputation plays a prominent and valuable role by rewarding healthy participation while reducing troublemakers and cheaters. A unified system across Xbox Live and all of your games allows for you to have much more control over who you play with while giving you new ways to get even more involved in your community.
Ability to record, edit, share and broadcast. With Game DVR and Upload Studio,3 gamers can instantly capture their favorite moments and edit and share them with their friends around the world. With Twitch on Xbox One, a single voice command starts live broadcasting.
The full lineup of Xbox One games unveiled by Microsoft at E3 includes the following:
Battlefield 4 (DICE, Electronic Arts)
Below (Capy Games, Microsoft Studios)
Crimson Dragon (Grounding/Land Ho!, Microsoft Studios)
D4 (Access Games, Microsoft Studios)
Dead Rising 3 (Capcom Vancouver, Microsoft)
Forza Motorsport 5 (Turn 10 Studios, Microsoft Studios)
Halo Xbox One – working title (343 Industries, Microsoft Studios)
Killer Instinct (Double Helix, Microsoft Studios)
Kinect Sports Rivals (Rare, Microsoft Studios)
LocoCycle (Twisted Pixel, Microsoft Studios)
Metal Gear Solid V: The Phantom Pain (Kojima Productions, Konami)
Minecraft: Xbox One Edition (4J/Mojang, Microsoft Studios)
Powerstar Golf (Zoe Mode, Microsoft Studios)
Project Spark (Team Dakota, Microsoft Studios)
Quantum Break (Remedy, Microsoft Studios)
Ryse: Son of Rome (Crytek, Microsoft Studios)
Sunset Overdrive (Insomniac Games, Microsoft Studios)
The Witcher 3: Wild Hunt (CD Projekt RED)
Zoo Tycoon (Frontier Developments, Microsoft Studios)
Lastly, launching alongside Xbox One this November is a new lineup of accessories that include:
Xbox One Wireless Controller
Xbox One Play & Charge Kit
Xbox One Chat Headset