PlayStation 4 Coming This Holiday for $399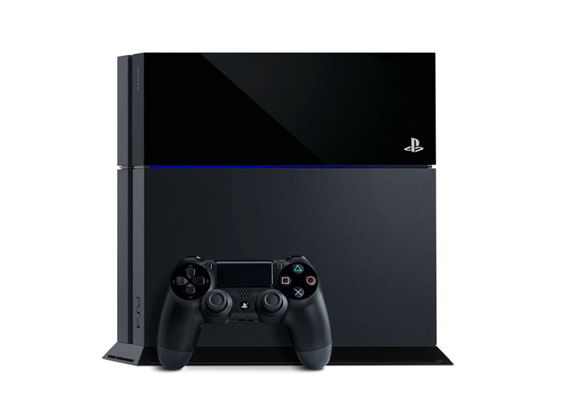 Sony Computer Entertainment America today unveiled the PlayStation 4 hardware design at its annual E3 Media & Business Summit press conference, where the company also announced its next-generation platform will launch in North America for $399 this holiday season. In addition, SCEA showcased an extensive line-up of exclusive first and third party content for PS4, PS Vita and PS3, and a next-generation PlayStation Plus membership program.
The PS4 features a simple but modern design accentuated by its linear flat form factors. The surface of the PS4 body is subdivided into four sections, as if four blocks are stacked together making one figure, with disc slot, buttons, power indicator and vent placed within the slim interspace created between the sections. The power indicator designed atop the body will glow in a PlayStation blue color when the power button is turned on. The foreside and backside of the body is slightly angled; it not only gives users easy access to the power button and disc slot when placed either horizontally or vertically but also helps conceal the connected cables. The black-themed color along with the matte and gloss finish adds a sophisticated look to the PS4 and will fit perfectly wherever it is placed.
PS4 peripherals include the stand-alone Wireless Controller for PlayStation 4 and PlayStation Camera, which will be available at launch for $59.99. Both accessories will come in "Jet Black" color.
Sony World Wide Studios is currently developing more than 30 PS4 exclusive titles, 20 of them, including 12 new IPs, are planned to release within a year of the launch of the PS4. Sony WWS President Shuhei Yoshida provided an update on PS4 exclusive titles, #DriveClub, Killzone: Shadow Fall, Knack, which will be available at launch, and inFAMOUS Second Son, available first quarter 2014. He also unveiled Sony's next blockbuster title, The Order: 1886, from studio Ready at Dawn.
Sony Vice President of Developer and Publisher Relations Adam Boyes introduced a lineup of titles that will be making their console debut on the PS4, including: Transistor by Super Giant, Don't Starve by Klei Entertainment, Mercenary Kings by Tribute Games, Octodad: Deadliest Catch by Young Horses, Secret Ponchos by SwitchBlade Monkeys, Outlast by Red Barrels, Oddworld: New N Tasty by Oddworld Inhabitants and Galak-Z by 17-bit.
Sony also unveiled new details for PS Plus. PS Plus benefits include online multiplayer, automatic patch download, exclusive game discounts, cloud game saves, early access to beta programs and content, access to the Instant Game Collection, and cross-platform PS Plus membership.
Additionally, as of today, Sony will modify the PlayStation Network service name to a more simple and friendly name "PSN," and will introduce a new logo for PSN and PS Plus.
To celebrate the support of PS Plus on the PS4, Sony will offer the #DriveClub PS Plus Edition to PS Plus members in the Instant Game Collection. In addition, one digital title will be rotated each month, including three of the new digital games introduced during the press conference: Don't Starve, Outlast, and Secret Ponchos. These three titles will be available at no extra cost via the Instant Game Collection during the first year following the launch of the PS4.
PS Plus membership can be purchased through PlayStation Store and is available as a one-year membership for $49.99, a three-month membership for $17.99, and a new a one-month membership option for $9.99.
Sony also announced that PlayStation's cloud gaming services will be available in 2014 beginning in the United States. The cloud gaming services will provide gamers on the PS4 and PS3, followed by gamers on the PS Vita, with immediate access to a catalog of PS3 titles. These games will be streamed using Gaikai's proprietary network technology.