Deadpool Pre-Order Bonuses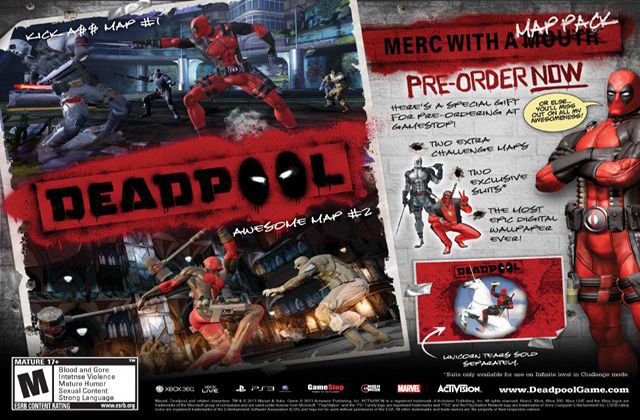 Activision and High Moon Studios today announced pre-order bonuses for Deadpool, arriving in stores on June 25th for the Xbox 360, PlayStation 3 and PC.
GameStop and EBGames
"Merc with a Map Pack" DLC adds two new maps – GRT Plaza and Inside the Tower – to Deadpool Challenge mode, as well as two bonus costumes – the D-Pooly and Uncanny X-Force suits – only for use in the unlockable Infinite mode where your stats are tracked on a global leaderboard.
Exclusive digital wallpaper for PowerUp Rewards members – U.S. Only.
Amazon
A $5 Amazon credit towards select Marvel graphic novels.
Exclusive digital wallpaper and digital cover sleeve.