Assassin's Creed Action Figure Line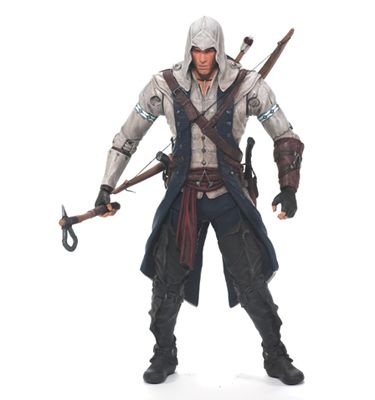 McFarlane Toys, in partnership with Ubisoft, announced today a licensing agreement to bring Assassin's Creed to store shelves.
McFarlane Toys' Assassin's Creed series 1 will consist of seven figures including the characters of Connor and Haytham Kenway. Connor will come as two action figures – one in his Assassin's Creed III traditional Assassins garb and the second, as Ratonhnhaké:ton in the upcoming "Tyranny of King George" storyline.
The Assassin Creed figure line of figures will stand approximately six inches tall, include an average of 25 points of articulation, and will come with a unique code that unlocks exclusive Assassin's Creed video game content.
McFarlane Toys' Assassin's Creed action figures will retail for $16.99 and will be available at major retailers in Canada, including Walmart, Target, Toys "R" Us, EB Games, Amazon, local comic book stores, and more.