Tomb Raider Pre-Order Bonuses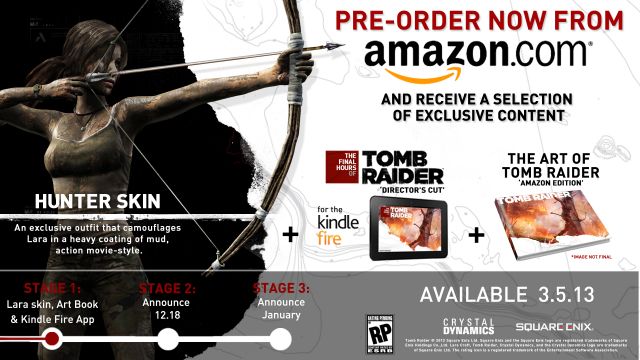 Square Enix today announced the first wave of pre-order bonuses for Tomb Raider. In coming months, three rounds of content will be available for consumers who pre-order the game. The first round of incentives is retailer specific and includes in-game and physical content:
GameStop
Exclusive in-game Challenge Tomb
In this exclusive standalone tomb, Lara encounters all new environment puzzles to test her brains and brawn.
Amazon
"The Final Hours Edition" of Tomb Raider
Exclusive 32 page art book created by art director Brian Horton showcasing the art from Tomb Raider
Exclusive "Hunter Skin" that grants Lara a layer of action-movie-style natural camouflage
The Final Hours of Tomb Raider – 'Director's Cut' Kindle Fire Edition: Go behind the scenes in this interactive app that documents the inner workings of how Crystal Dynamics went back to the drawing board to reboot the iconic video game
Best Buy
Exclusive Tomb Raider: The Beginnings Comic Book and Aviatrix Skin
Written by Rhianna Pratchett with cover art by Tomb Raider art director Brian Horton, The Beginnings is a 48 page six-part graphic novel which tells the story of how the ill-fated voyage of the Endurance came to be.
Aviatrix Skin: an exclusive 1930s adventurer outfit for Lara Croft, complete with bomber jacket