NHL 13 Review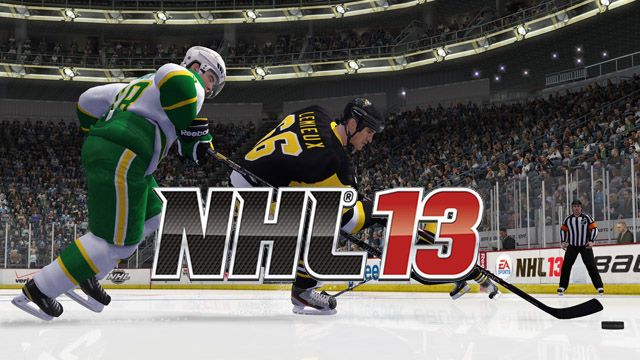 The NHL landscape looks pretty bleak at the moment. The Players Association and the owners continue to negotiate, for hours on end, but an agreement continues to elude them. We as fans are faced with the prospect of another season down the drain. While we all certainly maintain hope that we'll be able to watch real hockey on TV and in stadiums across the US and Canada this season, the situation makes the virtual realm that much more important. Some feel that a lockout makes the video game much more appealing, since it's the only NHL experience we might get, while others may feel that the lack of a real-world season coinciding with the game takes away from the draw. Either way, it's a crucial time for EA to deliver another satisfying outing with NHL 13.
Let's get this out of the way immediately: NHL 13 delivers. If you read my review of NHL 12 last year, you know that it was the best hockey game ever created, earning a 93% score. This season, Electronic Arts has once again created the best hockey game ever made by building on the last couple of efforts, and adding new mechanics and features that make it the most involved outing to date. There are some holes, but overall, it's one heck of an experience for any hockey fan.
First off, the game is presented wonderfully in virtually every aspect. It's got a TV-sheen to it that will be very familiar – in a good way. Bill Clement and Gary Thorne are back to call the action, and do an admirable job of keeping things fresh. As I've often said in my reviews of sports games, the easiest way to tell if the commentary is up to snuff is whether or not you notice them. If you notice it, it's probably because it's tacky or repetitive. At the end of the day, the phrases are all pre-recorded, so it's impossible not to recycle material. That being said, they've crammed enough into the repertoire to make it enjoyable.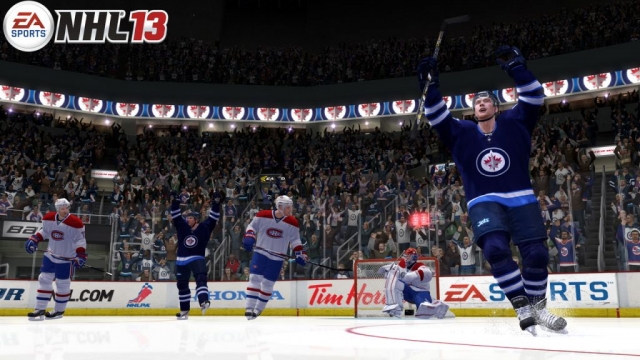 Once you hop into a game, you'll notice that the stadiums, crowds, sound effects, and on-ice visuals are top-notch as well. As someone who plays pretty much every sports game that EA shovels into the market, I can say without hesitation that this is their most impressively recreated atmosphere (rivaled most closely by 2K Sports' NBA product). The sound of skates carving in and out of the ice coupled with the animations of the players doing the carving are impressive, as are hits, deke moves, and player reactions. Goalies sprawling out for saves look especially great.
EA's most touted gameplay feature this year is called True Performance Skating. NHL 13 is intended to be a simulation of the NHL – not an arcade game – and this mechanic is designed to ensure that this distinction is made. The tool creates a physics-based system for every skater that forces the gamer to think like real hockey players do. No longer can you skate full-speed up the ice, stop on the dime, and cut a sharp corner. As with most movements, the faster you are moving, the less control and agility you have. The slower you're moving, the more control and agility you have. The system feels incredible, especially since it accounts for the attributes of each individual player. Smaller, quicker players will be able to turn more sharply at higher speeds than bigger players, but get caught in a tussle and there's no doubt who will win the battle for position.
This realism translates into every aspect of the game. If you let your defenders get caught up the ice, you'll more often than not be punished by an organized attack. Do you like to go all out for as many board-crashing checks as you can? It'll be fun for a minute – until the puck ends up in your net. When you watch a hockey game, you'll see each player constantly making decisions and prioritizing. Maybe a defender will allow a low-percentage shot on goal to deny a pass across the middle. Maybe a winger will allow a few passes in the back end so he can skate back to cover an attack. NHL 13 rewards the player for making smart hockey decisions, and the new physics engine makes it all the more important to do so. It all adds up to the most authentic feel we've ever been able to experience in a hockey game. There are still necessary evils here, such as magnetic passing, but we have to accept these as just that – necessary.
You'll immediately notice other improvements as well in the areas of AI behavior and player movement. It's funny how we often do not notice shortcomings in visuals until the year after, but now looking back at NHL 12, players seemed to shift position clumsily. This year, players shift back and forth from skating forwards and backwards, from pushing the puck out in front to shielding, and from deking to whipping a wrist-shot on net. It all just looks so fluid – you really do need to experience it.
All of this great gameplay is only as good as the inventory of modes you can use to enjoy it. In NHL 13, you'll have the usual suspects here such as a single game, practice, single season, and GM modes. GM mode continues to be a fantastic way for hockey nuts to enjoy tweaking everything from lineups to stadium details on their way to the playoffs. You'll make trades, large-scale team decisions, and manage personalities along the way. It's not changed in any significant ways from last year, but this is not a bad thing.
The most advertised new mode this year is called GM Connected. This is by far the most ambitious game mode implemented in any sports game over the last few years, and that is saying a lot. It is not for the faint of heart, but it has the potential to eat away the hours of your life like none other. In GM Connected, literally hundreds of players can join one league as GMs or players – and even commissioners! GM Connected will likely take some time to mature as players delve in and get their feet wet, but once the servers get populated, this mode will be the obsession of many hockey fans around the world. It's like a dynasty mode, but 100% online and 100% customizable in every way. It should be awesome.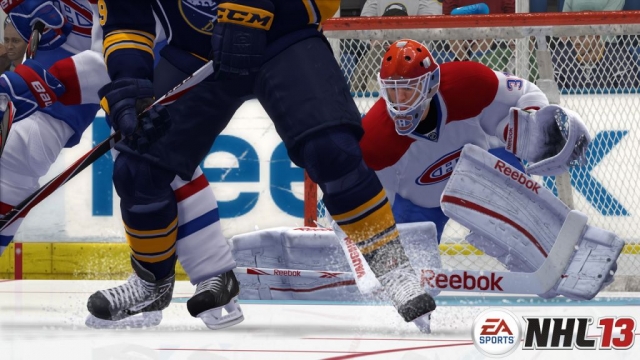 The other addition is NHL Live Moments. As every new sports game seems to be doing these days, this mode presents gamers with famous games from NHL history and allows them to step into the skates of the players to recreate them. For each game, there are different goals that must be achieved in order to succeed, such as a goal by a certain player, or various other stats or records. Most are from the last couple of seasons, and there should be DLC content available to replay great games that happen in the future (next season – fingers crossed).
While this is fun, it is also the source of my biggest gripe in NHL 13. It's hard not to compare this mode to NBA 2K12's counterpart. In that mode, there were multiple games from as far back as 40 years ago, and each of them had full rosters from that point in time. In Live Moments, in the older games that are here, you control a famous player (i.e. Wayne Gretzky), but his teammates and the players on the other team are players from TODAY's game. It looks tacky, and it's more of a gimmick that an authentic recreation of those great moments.
This detail (along with some slow load times) is just about the only complaint I have about an otherwise awesome game. EA did not rest on its laurels after a fantastic outing in NHL 12. Instead, they added a fantastic physics engine to create a fluid, realistic experience, and implemented the most ambitious online game mode we've seen in GM Connected. It's still a bit of a wild card, but it should prove to be the most enjoyed game mode in a hockey title ever.
The gameplay and atmosphere in NHL 13 is something every hockey fan should experience for him/herself. If you haven't already, go out and pick this one up. After all – unless we see some progress fast, it may be the only NHL action we get this season.
94%
Reviewed By: Dan Nielson
Publisher: Electronic Arts
Rating: 94%
——————————————————————————–
This review is based on the Xbox 360 version of NHL 13 provided by Electronic Arts.