Injustice: Gods Among Us Dated, Battle Edition Unveiled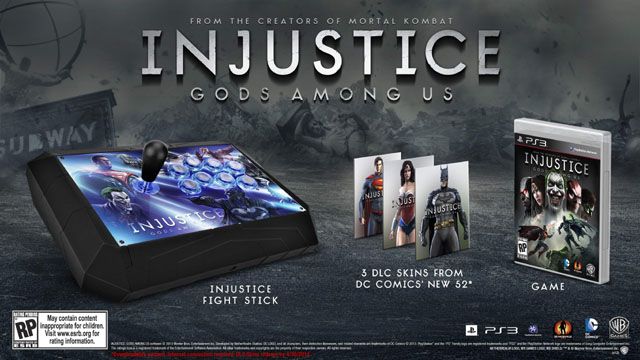 Warner Bros. Interactive Entertainment and DC Entertainment today revealed details for the Injustice: Gods Among Us Battle Edition. The package will be available in limited quantities at Gamestop and EB Games for Xbox 360 and PlayStation 3. Injustice: Gods Among Us is also confirmed to be available beginning April 16th for Xbox 360, PlayStation 3 and the Wii U.
The Injustice: Gods Among Us Battle Edition will retail for $149.99 and includes the game disc, exclusive Injustice: Gods Among Us Fight Stick featuring official artwork from the game and three exclusive skins based on Batman, Superman and Wonder Woman from DC Comics – The New 52. The Fight Stick is a lightweight controller that boasts a non-skid foam underside, a lockout feature for the Start, Select and Guide buttons, as well as adjustable illumination for the buttons and joystick.
Also available today is the new Injustice: Gods Among Us digital comic book from DC Entertainment. The comic is a prequel to the game, and it tells the story of events leading up to a new world order where heroes face each other in a fight to determine humanity's future. A new chapter of the weekly comic will be released every Tuesday for $0.99, and three digital chapters will then be collected in print and available for sale monthly. Download Injustice Gods Among Us #1 today at ReadDCEntertainment.com, through the DC Comics app, or on the iBookstore, Kindle Store or Nook Store.