Tomb Raider Collector's Edition Unveiled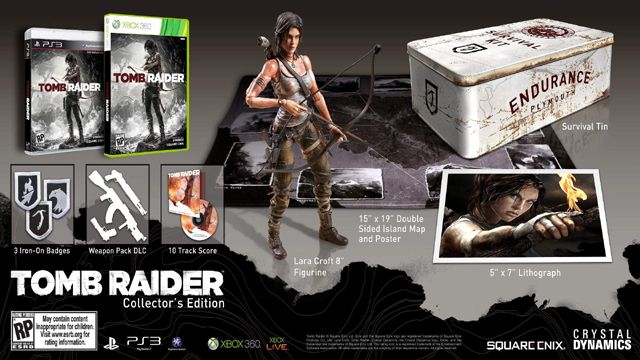 Square Enix today announced the Tomb Raider Collector's Edition will be made available alongside the game's release on March 5th, 2013. Available for $99.99, the Tomb Raider Collector's Edition features premium packaging – a replica survival tin recovered the ill-fatee expedition ship, "Endurance" – and the following:
Play Arts -KAI- Lara Croft figurine – Lara Croft has been recreated as an 8-inch Play Arts -KAI- action figure. The figure comes with an alternate set of three hands, bow and arrow, shotgun, handgun, and an ice axe.
Double-sided island map and poster – Discover key landmarks from the mysterious island of Yamatai, where Lara Croft and her fellow castaways were marooned after the Endurance shipwreck, in this 15" x 19" poster. On the reverse is a poster-size image of the box art that epitomizes Lara's origin story.
Lithographic print – An exclusive 5" x 7" Lara Croft heavy-stock lithograph print with matte frame designed by Crystal Dynamic's Brian Horton, senior art director, and Brenoch Adams, concept artist.
Experience Shields –Three iron-on badges based on the game's experience icons: "Animal Instincts," the "Climbing Axe" and "Fire Arrow."
Tomb Raider Original Soundtrack 'Survivalist Cut' – A collection of 10 tracks with over 60 minutes of music from the game.
Weapons Pack Downloadable Content – includes a variety of weapons to help Lara survive against the island's inhabitants.